AlchiMerge available for pre-order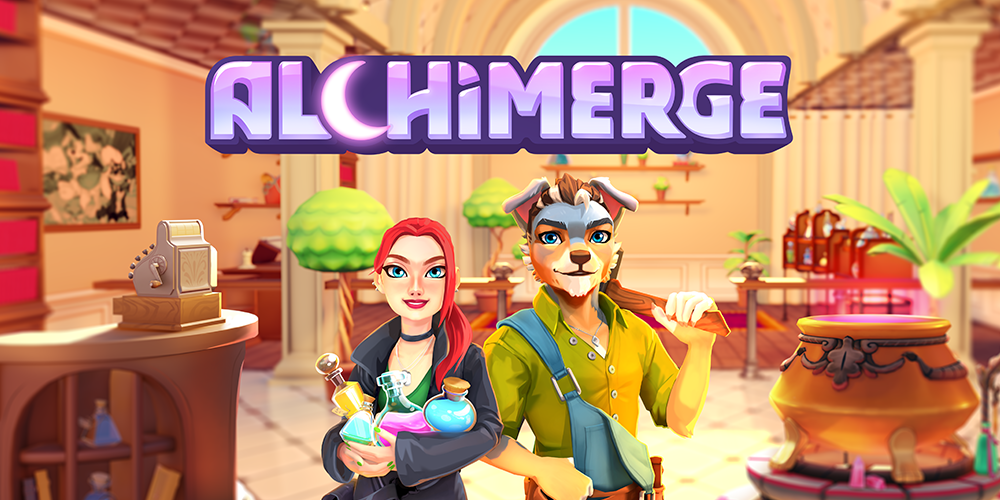 PocApp Studios' new highly anticipated merge game, AlchiMerge – Merge & Craft, is now open for global pre-registrations on both Android and iOS ahead of their planned release this summer.
To bring you up to speed with PocApp Studios' new game, AlchiMerge provides a fresh twist to the Merge-genre where you also Craft, Sell and Decorate in your very own Alchemy Shop.
Taking place in the same universe as PocApp Studios' previous titles, Castle Cats & Dungeon Dogs, AlchiMerge explores the future of this unpredictable and exciting world called Anima.
Begin as an aspiring entrepreneur and establish an Alchemy Shop on the Vortex Isles. Customize your Shop Owner to your own liking using AlchiMerge's extensive avatar customization and start your adventure either as a Human, Catanian (Cat) or Lupinian (Dog), the choice is yours.
Supply your Alchemy Shop with ingredients from the Vortex Isles using the classic Merge mechanic. Match and merge materials to harvest ingredients. Use the ingredients to craft and sell magical items to customers visiting your shop.
Use your hard-earned gold to decorate your shop to maximize your customer satisfaction, profits, and narrative progression.
Features
Merge gameplay – harvest magical Ingredients
Craft – mystical potions and lotions
Shop Tycoon – become the best Shop Owner
Story – reveal unique stories
Multiplayer – Invest in your City together
Avatar – choose between 3 races
To prepare for global launch, AlchiMerge is also soft launched on Android in these following countries: Indonesia, the Philippines, Taiwan, Turkey, Vietnam, Belgium, Brazil, Italy, New Zealand, and Poland.
Visit www.alchimerge.com for more information.
About PocApp Studios AB
PocApp Studios is a game development Studio, based in Skövde, Sweden, who focus on their passion for all things animals, gaming and powered by the Swedish tradition of Fika!
Developing a mobile-first ethos, PocApp Studios are well known for creating games with a distinct visual style, compelling pun filled narratives and loveable characters that are adored by their army of fans.
The award-winning studio, formed by a group of students in 2014 and headed up by CEO, Dilaram Massimova, describes itself as a group of friends who like to make videogames for the world to enjoy in a fun, relaxed environment. In 2018, PocApp Studios announced a merchandising arm to provide their fanbase with character inspired goodies that fulfil their fans' passion for their games.
PocApp Studios awards include Skövde Academic Game Award, one of Sweden's most prestigious awards for young computer game developers in 2014, as well as the Applovin Indie Dev Prize in 2018 that validate the studios' professionalism and aspirations.