PlayLab - A unique meeting place for games and performing arts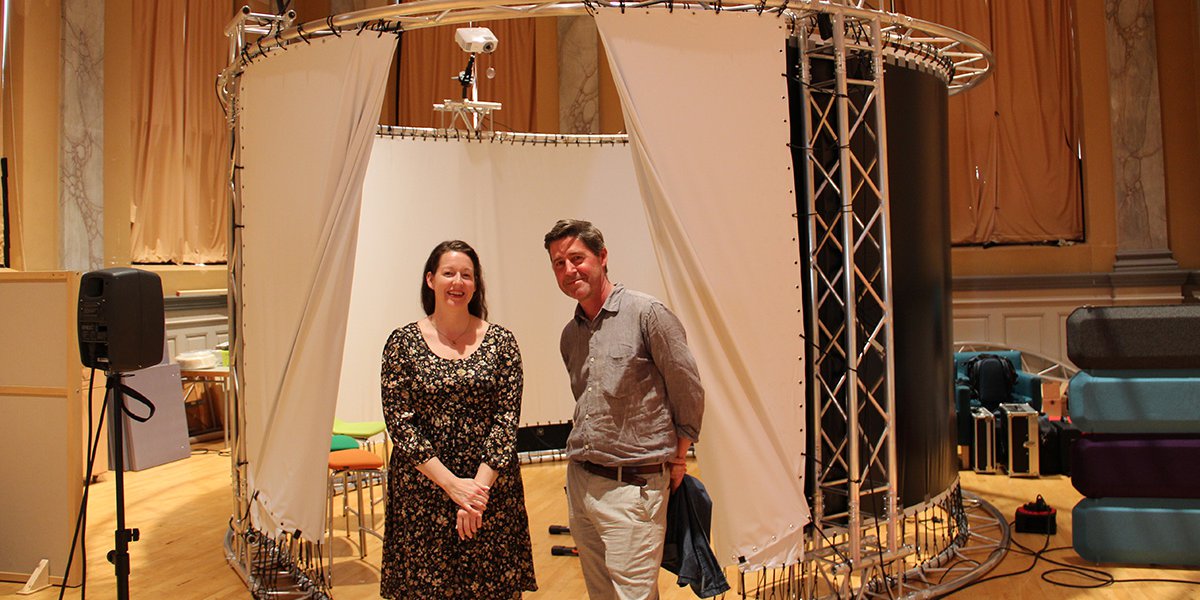 Exciting things are happening in the large performance space at Kulturlabbet in Skövde. Here, game researchers Rebecca Rouse and Lars Kristensen from the University of Skövde have initiated PlayLab to develop new ways of storytelling with technology related to game narratives and game design.
PlayLab was inaugurated in conjunction with the opening of Kulturlabbet in June 2022. It is a high-tech adaptable stage room with opportunities to explore the intersection of games, game technology, and performing arts. There are similar initiatives around the world, but none of them involve the public in the same way that PlayLab does.
"We collaborate with young people, university students, filmmakers, performing artists, and researchers from different countries to jointly explore new avenues within the art of games. It's like a playground and a laboratory for performing arts and game development," says Rebecca Rouse.
Lars and Rebecca came up with the idea for PlayLab when they listened to participants in a network they had created. Future Media Theaters was established by Rebecca and Lars and includes around 60 participants in creative and educational professions. The network expressed a need for a physical space to explore professional art and theater with a focus on new technology, where young people could get involved.
"We realized that there was a lack of a place to experiment with these subjects, and that's why we started PlayLab, which is operated by the University of Skövde in collaboration with Kulturlabbet, Science Park Skövde, Riksteatern, Folkteatern, GöteborgsOperan, and the Municipality of Skövde," says Lars Kristensen.
The purpose of PlayLab is to nurture the development of games so that Skövde can continue to be an important hub for the games industry. Involving young people is crucial to encourage them to test the technology and then start creating their own games or performing arts works.
"To evolve, you need to experiment and try new things. For us, the ecosystem with young people, game students, and game companies is important. That's how we get the development of the medium that's needed for it to thrive and for Skövde to develop as a gaming city," says Lars Kristensen.
Summer courses at the University of Skövde
PlayLab, in collaboration with the University of Skövde, organizes summer courses where advanced-level game development students are welcome to participate. Last summer, circus artists from Fauna Circus presented a performance that they wanted to develop in an interactive direction.
"There were six game development students from the University of Skövde who, together with Riksteatern Väst and the circus artists, figured out how the story would be. It became an interactive performance where the audience became part of the story using various technologies. They could control the lighting and interact with different elements in the stage design," explains Rebecca Rouse.
Meeting the audience and receiving direct feedback is something that artists are accustomed to. However, for a game developer, this happens less frequently.
"Here, game developers get to experience meeting the audience. After the performances, we offer drinks and snacks, and the audience and the creators of the performance have the opportunity to talk to each other about their experiences," says Rebecca Rouse.